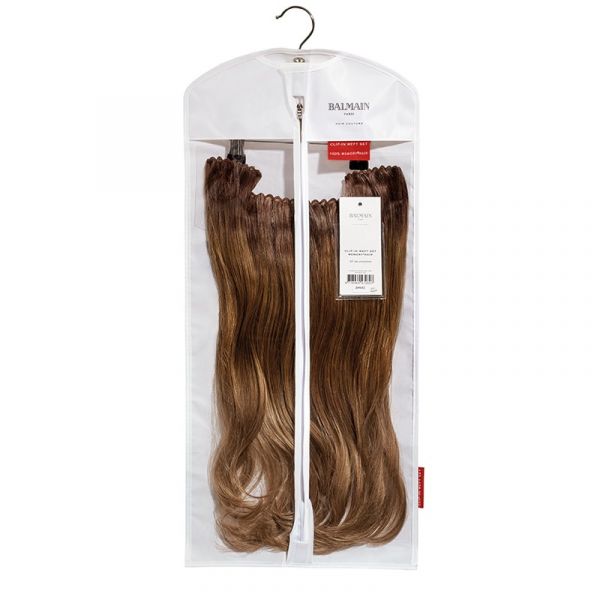 Short description
The Clip-In Weft Set 45cm contains 100% Artificial Hair. Because of the Clip-In application, this hair piece does not cause any damage or hinder to the natural hair growth during while wearing. This hair addition takes only 5 minutes to place in the natural hair. The clips ensure a secure fit to the own hair. The Clip-In Weft invisibly adds instant length, volume, and colour to the natural hair.
Undetectable integration due to the Soft Blend Edge

5 different width strips (2x 7,5 cm, 1x 13 cm, 1x 20 cm, 1x 25 cm)

Suitable for daily use due to the clip-in application
Contains
Contains
Clip-In Weft set (5 pieces), Clothing Hanger, Clothing Bag, Tail Comb, 2 extra Security Clips
How to use
How to use
1. Make a horizontal parting in the lower neck.
2. Tease the hair just below the parting and apply the 13cm weft piece with the clips on the teased area.
3. Place the 20cm piece approximately 2cm above the lower neck piece and the 25cm piece approcimately 2cm above the 20cm piece.
4. Apply the 2 small 7,5cm wefts at the sides of the head for extra volume on the sides.
Backstage Secret
Backstage Secret
Use the Balmain straightener and curling wand to create wavy hair or bouncy curls.