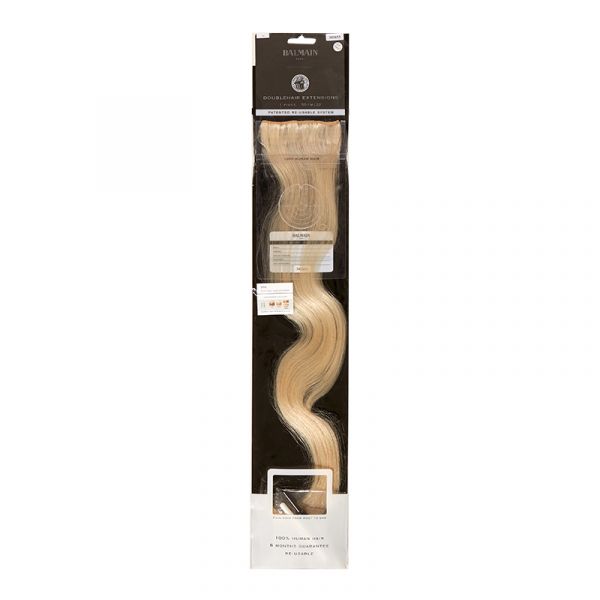 Double Hair Extensions Human Hair
Short description
DoubleHair is a reusable weft extensions system made of the highest quality 100% Human Hair. Each weft contains three layers of hair which allow you to create instant volume and length with a minimum number of applications. To ensure invisible integration and comfortable wearing, the wefts are fastened under a layer of extension hair with either clips, rings or keratin bonds. One pack of Double Hair equals a basic volume treatment.
Multi-application: Clips, Rings (4-6 weeks) or Bonds (8-12 weeks)

Unique 6 months quality guarantee with Balmain Professional aftercare
Contains
Contains
DoubleHair extensions, 2 pullers, scalp protector, 1 crochet needle, soft rings, 35 keratin bonds
How to use
How to use
Ring-application (4-6 weeks)
1. Make a parting in the natural hair.
2. Place the weft strip under the parting.
3. Lift the upper layer of hair and secure on top of the head with a clip.
4. Pull hair strands through the four open areas.
5. Connect ½ of two adjacent hair strands and pull them through the loop of the application puller. Slide the ring down the puller. Fasten the ring with a ring connector.
6. Repeat on all hair strands.
7. Release the top layer of hair to cover the Soft Rings.

Bond-application (8-12 weeks)
Replace step 5 of the Ring application:
5. Use the Plug & Play Connector to fasten ½ of two adjacent hair strands with a bond approximately 1 - 1.5cm from the scalp.
6. Roll the bond with your fingers to seal the bonding.

Use Balmain Professional Aftercare to validate the 6 months guarantee on all Human Hair Extensions
Backstage Secret
Backstage Secret
Place additional fill-in extensions near the natural hairline or parting to create extra volume on top.