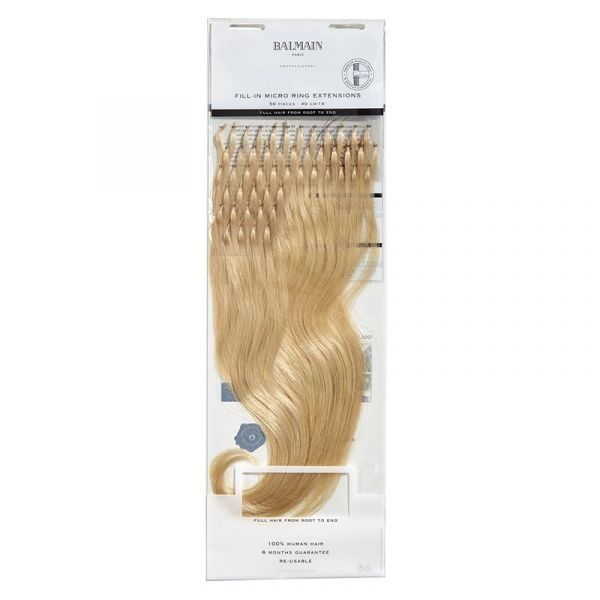 Fill-in Micro Ring Extensions Human Hair
Short description
Fill-In Micro Ring Extensions are made of 100% Human Hair, layered for perfect integration and invisible whilst wearing. The small flexible tips of the extensions are fastened with lightweight, undetectable micro rings for comfortable wearing. The cold application method makes the extensions reusable and easy to apply and remove without glue or bonds.
Reusable, ultra small micro ring application

Unique 6 months quality guarantee with the Balmain Hair Professional Aftercare Line
Contains
Contains
50x Fill-In Micro Ring Extensions, 100x Micro Rings, 1x Puller, 2x Scalp Protector
How to use
How to use
Ring-application (4-6 weeks)
1. Make a parting in the natural hair.
2. Take a small hair strand.
3. Place the protector around the hair strand. Secure with a clip at 0.5cm from the scalp.
4. Pull the natural hair through the loop of the application puller. Slide the ring down the puller.
5. Place the tip of the Micro Ring Extension inside the micro ring.
6. Fasten the ring with a ring connector.
7. Repeat on all hair strands.
8. Release the top layer of hair to cover the Micro Rings.
Backstage Secret
Backstage Secret
Mix two different colours for a natural look or to create high- and lowlights.